There are Many Good Reasons to buy TAM
Our customers like TAM. To see what some of them think about our software, please click here.
This section summarises why it makes sense to subscribe to TAM, in no particular order of priority:
General Points
1. Satisfaction guaranteed
We are so confident you'll be impressed with TAM that we offer everyone a no quibble 3-month free trial. In other words, you can use TAM completely free for three months with no obligation or committment.
2. Low monthly cost
The monthly expense to your company is only £1.00 per User with a minimum of 20 Users. We recommend you set up most or all your employees as Users in order to get the most out of TAM.
That said, those of your staff that are not Users can still access TAM free of charge to view your various Health & Safety and company documents, however, these employees will not be able to use TAM's many other features and there will be no audit trail or records kept of, for example, any training or Risk Assessments that these non-users have received.
3. TAM will save you money
By eliminating much of the follow-up work in your organisation; by making the administration of Health and Safety much easier; by making your staff more focused on actions and driving the business forward, you will save money overall despite the monthly cost of £1.00 per User.
4. We offer a fair and simple deal with no long-term commitment required from you
We will not demand that you sign a long-term contract with us, and we won't ask you for a big upfront payment. If you don't like TAM and what it has to offer, you can terminate the deal with us at any time (or simply stop paying us), without incurring any penalties.
It's as simple as that!
5. Very little time needed to get up and running with TAM
We have created a tool, the "EasyPop", to simplify and speed up the whole process of getting started on TAM. All you need to do is to copy your employee details from, say, your payroll onto a spreadsheet format that we provide and then email it to us together with a list of your sites (if you have more than one). We will then use this information to automatically populate the Staff Set-up section of your TAM. This way, all your staff details can be on TAM from day one.
Other existing information and documentation that you want to put on TAM can easily be uploaded or copied over to the system with a minimum of fuss, so that your company can quickly get up and running with TAM.
6. You have little to lose by trying TAM out
Bearing in mind the points above, what do you have to lose by trying TAM out?
Health and Safety Management
7. Health and Safety compliance made easy, less time consuming and costly
The main purpose of the TAM Health and Safety software is not just to help you comply with current legislation, but to make it as easy as possible by automating much of the process.
For example, once you have completed a Risk Assessment, TAM will help you figure out which of your staff need to receive the resulting training; schedule refresher training; keep training records; etc.
8. TAM makes it so much easier to understand Health and Safety and what it is you are required to do
If your organisation is not familiar with Health and Safety, you will find the TAM framework makes it a great deal easier to understand what is required from your organisation. Simply by populating the different sections relating to Health and Safety in TAM, you will have fulfilled several key Health and Safety compliance requirements
9. "Real Time Health and Safety Audit" dashboards help you quickly identify problem areas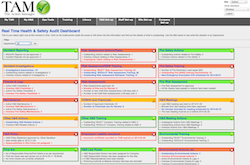 TAM provides two types of this dashboard; the site specific dashboard and the company wide summary, the latter being a tool for multi-site operations.
TAM's site specific "Real Time Health and Safety Audit" dashboard makes it really easy to identify those areas where you have work to do. Click on the image to the right to view the dashboard.
If your are responsible for Health and Safety in an organisation operating from several sites, then the "Company Real Time Health and Safety Audit" is a valuable tool that will make your life so much easier. This dashboard provides a compliance summary for all your sites, listing them in order based on the largest number of outstanding compliance issues each site has, and a quick look at this summary will let you know which sites are not doing what they are supposed to and highlight the areas where they are lagging behind.
10. TAM is a proactive Health and Safety software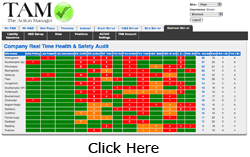 TAM will automatically generate a series of Tasks and TAM Messages to remind you of things that need to get done in order to stay compliant. And you can also arrange for these Tasks and TAM Messages to be sent as alerts to your regular email address and/or mobile phone so that you don't have to keep logging onto TAM all the time to find out what needs to be done.
11. Improved overall risk management
The procedures and disciplines that TAM instils helps foster good overall risk management throughout your organisation.
12. Make staff take more responsibility for their own Health and Safety
In companies that lack a proper system for managing Health and Safety, the responsibility for any compliance problems tends to float to the top of the organisation.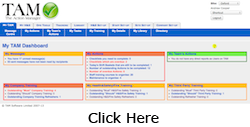 Because of TAM's ability to manage Health and Safety and keep an audit trail for things like Risk Assessments, Tasks, training records, etc., staff throughout your organisation are made to take more ownership of their Health and Safety.
13. Peace of mind for directors, managers and staff
No more sleepless nights wondering whether this or that has been done as set out in your Health and Safety documentation. TAM will help you ensure things get done.
14. PLEASE COMPARE TAM to other Health and Safety software solutions and make up your own mind!
If you already have a software to help you manage Health and Safety, or if you are shopping around for one, you should consider the following points to compare:
Does the other Health and Safety software:
Deal with as many compliance issues as TAM?
Automate as many of the processes as TAM?
Have a Task Generator as sophisticated as TAM that clearly tracks Actions through to completion?
Leave you with any loose ends and, if so, does this potentially create more exposure for you?
Help you identify which staff need training on what, and keep detailed training records?
Still require hardcopy documentation to be managed outside their system?
Encourage all staff to actively use the system the way TAM does, or is it simply designed to be used by a few Health and Safety professionals?
Have an audit function as good as TAM?
Provide a quick and easy way to update Risk Assessments and spread the new information to the relevant staff?
Have the features to deal competently with multi-site operations?
Offer you an Operational Management module as well?
Offer you a fair, flexible deal such as the one from TAM? What is their cost per User? Are they insisting on a long-term contract and do they offer a money back guarantee?
Operational Management
15. Increase focus on actions, activity and driving the business forward
Because of the way it is structured, TAM will encourage your staff to become more action oriented and, as a result, you will be able to get more out of your organisation.
16. Build up and polish long-term operational routines
TAM makes it easy for any organisation to gradually build up and polish long-term operational routines. You can quickly set up long-term routines and allocate them to Positions, Shifts or individuals. Once done, you can easily change, amend and re-assign the Tasks. Scheduling of Tasks can also be done in variety of ways, even repeat random Tasks (e.g. spot-checks) can be scheduled.
17. Easy online access to documentation 24/7 from anywhere in the world
A big advantage with TAM is that all your documentation - be it Risk Assessments, Checks and Logs, staff training records, maintenance of fire precautions, etc. - can all be viewed online 24/7 from anywhere in the world.
18. Make sure things get done
With TAM you know that the Tasks that you have entered into the system will get done or, if not, you will be alerted to the fact that they haven't.