Health and Safety Management Software - Summary
TAM offers a comprehensive yet simple approach to Health and Safety compliance
Many Health & Safety software solutions are little more than expensive word processors for Risk Assessments.
The TAM Health & Safety software, on the other hand, offers a great deal more than that. TAM is about helping companies comply with as much of the basic Health & Safety legislation as possible and to make this process as simple as possible.
Monitoring compliance is easy on TAM with its "Real Time Health & Safety Audit Dashboard"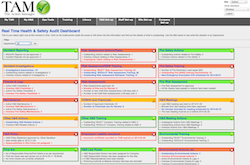 TAM provides a "dashboard" where you can view a summary of key Health & Safety compliance issues, and where TAM will indicate whether you are doing what you are supposed to do or not. This Health & Safety audit information is provided in detail and in real time for each site that you have.
There is also a company wide Health & Safety Dashboardon TAM that offers a general summary of all your sites - if you have more than one - and ranks them in reverse order based on Health & Safety compliance, which makes it very easy to identify the sites where you may have problems.
The TAM Health and Safety software can also email you a copy of these dashboards every week to make it even easier for you to stay on top of your Health and Safety compliance.
The TAM Health and Safety software is a proactive system that will remind you to take action when you need to
To help you get Health and Safety under control after you have signed up with us, TAM will alert you to what needs to be done step-by-step.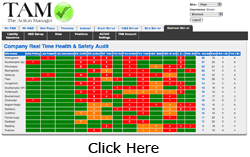 TAM has a programme running over the first couple of months that will tell you step-by-step what needs to be done on TAM. Every couple of days, the TAM Health and Safety software will send you instructions on what you need to do next either by sending TAM Messages, or by creating Actions for you to do.
As TAM can send you emails and/or text alerts for all TAM Messages and Actions, it is very easy to stay on top of things even if you don't log on to TAM itself very often.
In this way you can make good steady progress on TAM without becoming overwhelmed with work.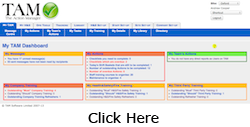 We don't believe Health and Safety has to be complicated or time consuming
TAM's Health & Safety software offers all types and sizes of organisations a cost effective and comprehensive way of dealing with Health and Safety and, whilst we can't guarantee 100% compliance with every single Health and Safety regulation, we can promise that TAM will make overall compliance a great deal easier.
The TAM Health and Safety software offers peace of mind
Whether you have been identified as a Health and Safety responsible person in the Health and Safety Policy, appointed to the Health and Safety Committee, a senior manager, director or shareholder, you can take comfort from the fact that TAM's Health & Safety software is helping you manage Health and Safety in your business.
The primary purpose of the TAM Health and Safety software is to make sure that those things that should get done, do in fact get done properly. And, if they don't, there is a particular process for Health and Safety related matters that ensures senior management are promptly informed of any missed deadlines.
As a result, TAM will ensure the Health and Safety work continues in your company without constant monitoring and chasing after people, and you will be informed of any problems that occurs. As time consuming follow-up is done for you by TAM, more time is freed up for you to concentrate on the actual running of your business.
More to come from the TAM Health and Safety software
We are always working on ways to improve our Health and Safety software, so look out for future updates and enhancements to TAM that will improve your ability to stay compliant in a simple and time efficient manner.
If you have any ideas on how we can improve TAM in this regard, please let us know (see Contact Us).