Accident Reporting and Accident Investigations
It's a Legal Requirement!
Many companies are required by law to keep a record of injuries in their workplace using an accident book
According to RIDDOR, employers, the self-employed and those in control of premises must report certain serious workplace incidents to the authorities
You must investigate the cause of each accident recorded
You must keep records for at least three years
For more information on what is required by you under Health and Safety law visit :
http://www.hse.gov.uk/riddor/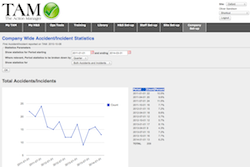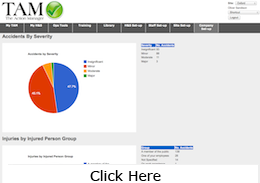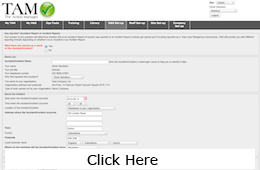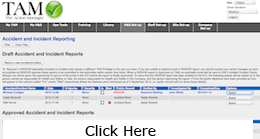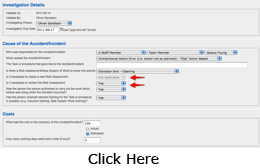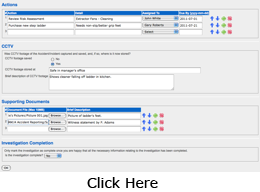 Use TAM's Accident Reporting software to do all your Accident, Incident and RIDDOR reporting as well as Accident Investigations.
Accident Book Template
You will no longer need any hardcopy Accident Books for your staff to fill out. Instead, TAM provides you with an Accident Book Template that's easy to understand, quick and simple to complete, with much of the information being automatically populated by TAM.
TAM's Accident Reporting software keeps all your records securely for you online, making it possible for management to log on to TAM from anywhere in the world 24/7 and view the details of any Accident Report and/or Accident Investigation.
Automatic RIDDOR reporting to the HSE using TAM's Accident Reporting Software
When reporting accidents, TAM's Accident Book Template will ask a series of questions to help determine whether the accident or incident ("near miss") is RIDDOR reportable or not.
An Accident or Incident Report, which has been drafted on TAM and that is deemed to be RIDDOR reportable, will automatically be submitted directly to the HSE by TAM once it has been formally approved by an authorised person in your organisation. In other words, because TAM does the RIDDOR reporting for you, you don't need to go to the HSE's website and fill out the RIDDOR report again.
TAM helps you keep a detailed log of any First Aid and/or medicine given
Organisations are now required to keep detailed records of First Aid given. TAM's Accident Reporting software also provides you with a First Aid Log Book to help you monitor any First Aid and/or medicine given to an injured person. To learn more go to First Aid.
Accident Investigations
An important part of our Accident Reporting software is the Accident Investigation feature, which allows you to:
Create an Accident Investigation for each Accident/Incident reported in the Accident/Incident Book
Analyse who and what caused an Accident/Incident - a series of pre-populated, customisable drop-down menus ensure this can be done quickly as well as provide valuable information for future statistical analysis
Establish the overall cost to your organisation caused by Accidents/Incidents
Track Accidents/Incidents (and their associated costs) by, amongst other things, Department, Position (even by individual), Contractor, etc
Set out your findings and recommendations
Create Actions in direct response to your Accident Investigation findings, which TAM will then track for you until completed and provide an audit trail thereof
Upload any number of supporting documents and pictures on TAM (e.g. witness statements, pictures of where the accident took place, etc)
The great advantages with doing the Accident Investigations on TAM is, firstly, that, not only will TAM help you manage these, but the system will also ensure that there are no loose ends by tracking any Actions that you have created as part of your Accident Investigation until they are completed. Secondly, by keeping all your information and supporting documents securely stored on TAM, it means that the information can be electronically accessed 24/7 from anywhere in the world.
Control the information going into your Accident Book, by controlling who is authorised to approve Accident and RIDDOR Reports, or carry out an Accident Investigation
When using TAM's Accident Reporting software, you are able to specify on the system who is authorised to:
Draft an Accident or Incident Report
Approve an Accident or Incident Report to be recorded in the Accident Book that is NOT RIDDOR reportable
Approve an Accident or Incident to be recorded in the Accident Book that is also RIDDOR reportable (i.e. where an automatic email with the RIDDOR report is sent to the HSE's Incident Contact Centre).
Carry out an Accident Investigation
This way you can ensure no report is permanently recorded in the Accident Book or sent to the HSE before it has been reviewed and approved by a person entrusted with this task. Also, by using TAM's accident reporting software and having control of what goes into your Accident Book, you can ensure your Accident Book doesn't become a liability for you by encouraging claims against your organisation.
Control who has access to the historical records in the Accident Book
Similar to the above, you can also control who can access the Accident Book, RIDDOR reports, Accident Investigations and related historical records stored on TAM.
Automatic email and/or text message alert when an Accident Report is being drafted
You can request TAM's Accident Reporting software to send you an email and/or text message alert as soon as any Accident Report is drafted on TAM. If your organisation produces many Accident Reports you may not want to be alerted to all of them, hence, you can request TAM only to be alerted to accidents of certain severity levels so that you don't get inundated with alerts.
View detailed statistics and graphs to help you analyse and minimise your accidents
Finally, based on the Accident and Incident Reporting, and Accident Investigations that you have done on the system, TAM's Accident Reporting software will automatically provide you with a wide range of statistics and graphs for the accidents and incident that have occurred throughout your organisation. You can view the data in the automatically generated charts provided or you can download the data into your own spreadsheets. You can also customise TAM and create your own accident types and various other categories on the system, so that TAM can help you track these and provide statistics and graphs for them.